Krowme eLeave Software
Krowme is the Software-as-a-service arm under OpensoftHR
Secure, Paperless Leave-Processing Software.
With OpensoftHR eLeave software, employees can perform all their leave transactions from their own devices. The online leave management application allows SMEs companies to speed up leave processing, tracking and reduce overheads. The entire experience is digital, and leave application is automated for the entire company.
OpensoftHR eLeave software is time-efficient and easy to use for anyone in your company. Contact us for a free 14-day trial.
Desktop & Mobile Access
With OpensoftHR, your employees can self-service all their HR-related matters from their computers and smartphones, 24×7, anywhere. Be it retrieving payslips, submitting claims, checking roster, or applying for leave, your employees can do all these and more, securely and conveniently. The OpensoftHR solution is perfect for all types of work arrangement, including hybrid and remote working.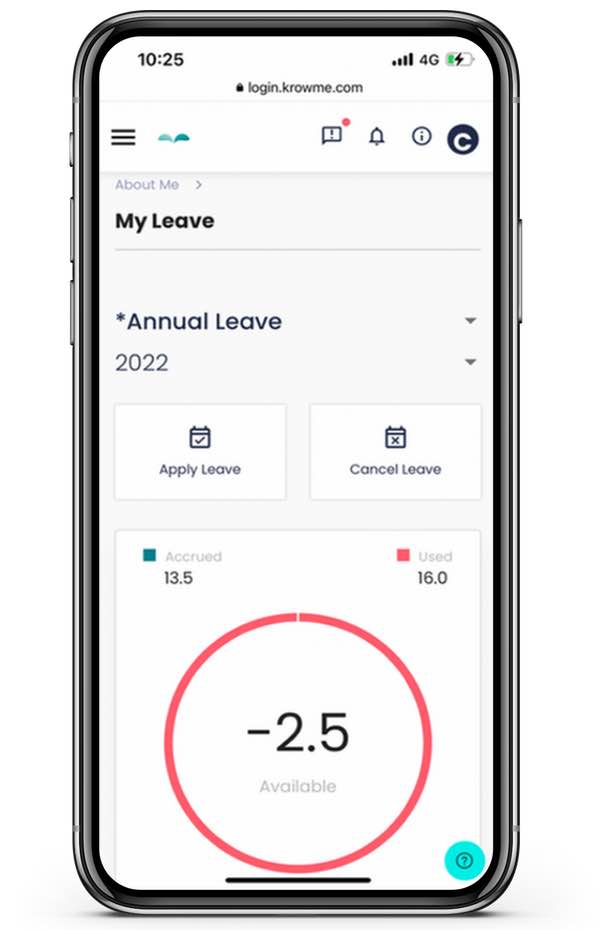 Benefits of Krowme eLeave Software
Employee Self-Service
Employees can apply/cancel leave and check on approval anywhere, anytime from their own devices.
Insightful Reports
Easily generate reports for management, such as "Leave by Month" or "Year-to-date Summary".
Department Leave Calendar
All leaves are marked in a calendar. Get insights into the manpower availability of your department.
Carry Forward Leave
Unconsumed leave can be carried forward (whether in full or partially) to your next calendar year.
Configurable Leave Policies
Setup your company's leave policies, rules and methods of computing leave types.
Instant Notifications
Get instantly notified when an employee applies for leave.
Automatic Backup
Leave data is automatically backup and securely stored for audit purposes.
Customisable Leave Types
Companies can easily implement special leave types whenever necessary to support the well-being of employees.
Improves Scheduling
By knowing who is around on any day, it is easier for one to schedule meetings with colleagues and team mates.
Automate Payroll Processing
Seamlessly synchronise leave data with that of other HR modules (eg. payroll, roster, time attendance) for fully-automated payroll processing.
Document Proof Submission
Employees can attach and submit documents digitally to support their leave application.
Many More Functions…
Contact us today for more details about OpensoftHR product.
Reduce Your Internal Operations Load and Make Work Life More Efficient.
At OpensoftHR and Krowme, we are advocates of using your time wisely and prioritizing what truly matters. We aim help you increase productivity and also ease your stress by taking care of all of your HR needs.
OpensoftHR and Krowme are always compliant with government regulations and can generate many types of HR Reports with just a click of the mouse.
As a Small Business, you may only require the basics. Please fill up this 'Get a quote' form so we can better understand your company type and propose a quotation for you.
You will receive your quote and a customized deck that shares the proposed tools within 1-2 working days.