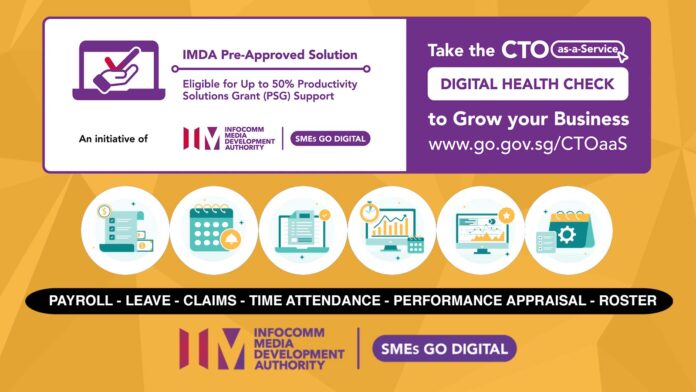 HRMS Software comprising Payroll, Leave, Claims, Performance Management
Now is the best time to invest in your HR management. With Productivity Solutions Grant, companies can get funding support for their investment in digital HR solutions.
The OpensoftHR Solution has been pre-approved for up to 80% PSG grant. Opensoft HRMS is a complete package comprising 7 software:
System Manager
OpensoftHR: Improves Staff Retention
One of the biggest challenge for companies today is the ability to retain the best of their employees.
This is where the OpensoftHR package can totally transform your human resource operation, improve employee retention rate, enhance staff performance, and reduce operating costs associated with human resource processes.
Integrated with cloud and mobile technologies, employees can self-service on matters such as payroll, leave, claims, etc on the go.
With the performance appraisal module included in the package, companies have a tool to set up KPIs for employees and monitor their performance at real time. Employees also have access to their performance targets and progress, which would motivate them to work towards achieving their KPIs.
As of today, hundreds of companies in Singapore rely on OpensoftHR to manage their employee processes. Besides reducing overheads and improving productivity in human resource operation, OpensoftHR also helps companies to foster interactions between management and employees, leading to improvements in staff retention rate.
What is Productivity Solution Grant?
Productivity Solutions Grant (PSG) is a funding scheme to help Singapore companies adopt IT solutions to improve their business processes.
However, not every IT solution in the market qualifies for the grant. The supportable solutions must be pre-qualified by the various government agencies, meet stringent requirements, specifications and scopes before being approved for PSG grant.
Hence, IT solutions must be pre-approved for PSG grant. And OpensoftHR is one such pre-approved solution listed under the HR Management System category.

Eligibility for PSG
SMEs that adopt the OpensoftHR Package can apply for PSG if they meet the following criteria:
Registered and operating in Singapore
Purchase/lease/subscription of the IT solutions or equipment must be used in Singapore
Have a minimum of 30% local shareholding (for selected solutions only)
Need a Demo?

The Opensoft HRMS promises to supercharge your HR management. Contact us for a demo or if you have any questions regarding the pre-approved PSG grant.