Opensoft Payroll Software
Process Payroll in the Cloud
OpensoftHR Payroll software is a secure web-based solution for companies to process payroll in the cloud. The software seamlessly integrates with other HR data sources (such as leave, claims, performance appraisal) so as to automatically compute and generate itemised payslip for every employee. The payroll application is fully compliant with statutory requirements, and automates the deduction and submission of CPF, IRAS as well as other salary components as required by the Ministry of Manpower.
OpensoftHR Payroll software is easy to use, accurate, and efficiently handles all the payroll transactions for a worry-free month end processing. Contact us for a free demo today!
Desktop & Mobile Access
With OpensoftHR, your employees can self-service all their HR-related matters from their computers and smartphones, 24×7, anywhere. Be it retrieving payslips, submitting claims, checking roster, or applying for leave, your employees can do all these and more, securely and conveniently. The OpensoftHR solution is perfect for all types of work arrangement, including hybrid and remote working.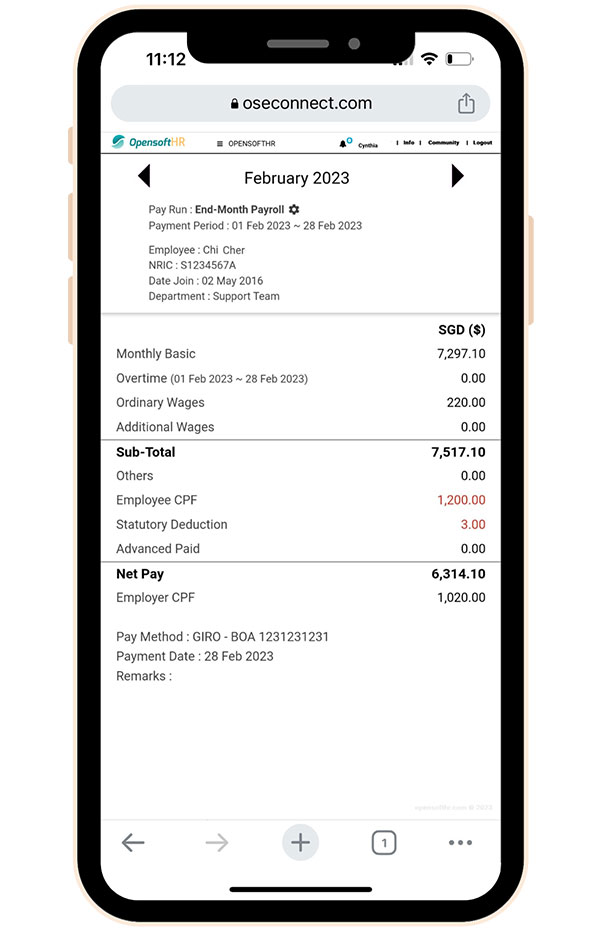 Benefits of Opensoft Payroll Software
Efficient Data Entry
The software features a Quick Data Entry Mode that enables you to complete payroll transaction within a few clicks.
Employee Self Service
Employees can update their own HR records and the information will be processed by the payroll software automatically.
Automate Payroll Processing
Seamlessly integrates with other HR modules (eg. leave, roster, time attendance) for fully-automated payroll processing.
Configurable Payroll Policies
Configure different salary components, payment formulae, etc for different employees, including variation in paydays.
Itemised Payslips
Generate itemised payslips in line with Ministry of Manpower's policy for all Singapore companies.
Insightful Reports
Generate key reports such as "Overtime Payroll" or "Monthly Payroll" instantly for timely submission.
Notifications
Get reminders on expiry of employee work passes, passports, licences. No more worries about missing a renewal.
Online Submissions
Bank GIRO, CPF-Line and IRAS-Line submissions can be done easily with just a few clicks on your mouse.
Singapore Payroll Compliance
OpensoftHR Payroll software is approved by CPF board, suitable for use by Singapore companies.
Automatic Backup
Payroll data is automatically backup and securely stored for audit purposes.
Export Function
You can easily export your payroll data in Excel format to facilitate further processing and reporting.
Many More Functions…
Contact us today for more details about OpensoftHR product.
PSG Grant
OpensoftHR Payroll is one of the software under the OpensoftHR Solution Package which has been pre-approved for PSG grant (Productivity Solutions Grant).