OpensoftHR Appraisal Software
Instead of conducting an annual staff appraisal, companies can rely on Opensoft appraisal software to evaluate the performance of their staff all year round. The software monitors employees' progress and achievements, and provides insights for management to keep their employees engaged towards achieving their KPIs. This makes the Opensoft appraisal software superior over traditional performance evaluation exercise.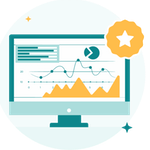 Key Features of OpensoftHR Appraisal
With career progression being a top priority, most employees today need to know how they are performing on a regular basis. Through Opensoft e-Performance Appraisal, employees are empowered to create, monitor, and collaborate on goals with their managers.
Aligns fact-based information to employee performance: Bring about more objective information into the performance appraisal process.
Peer review option: Engage in 360-degree feedback for a more well-rounded insight to an employee's performance.
Career Development Component: Managers can recommend and track training and/or skills development programs for their junior employees.
Keep track of performance progress: Employees are able to know the status of their achievements and how well they are progressing towards their KPIs.
Goal Library: HR administrators are able to setup and fully customise company goals, including the level of priority focus, unit of measurement and purpose, etc.
Automated reminders and notifications: Managers and employees will be notified via email or mobile of forms that require their assessment, and upcoming appraisal sessions.
24/7 Access: Managers do not have to worry about missing out on employees' appraisal forms, as it can all be easily accessed and printed out from the performance appraisal software.
How OpensoftHR Appraisal Can Benefit You
Identify Key Employees Early
Employees are human capital, valuable assets to the company. The ability to identify and retain good employees is critical for the success of any business. The Opensoft e-Performance Appraisal software enables your business to identify peak performers objectively and early, so that career planning for key staff can begin as soon as possible.
Motivate Employee to Perform
The entire performance appraisal process itself is not supposed to be a year-end activity. The best companies know that providing clear feedback to staff early is critical in motivating them to perform. The Opensoft Appraisal Software will allow feedback to flow between management and staff, resulting in higher engagement, more accurate insight into employee performance and greater opportunities to address problems anytime they arise.
Seamless Feedback
The new generation of employees these days desire on-going feedback. In fact, they crave for feedback without requiring extra time or incurring attention. Hence, with the Opensoft Performance Appraisal system, you can give your employees the avenue to self-evaluate their performance on regular basis. This will motivate them to perform and ultimately results in lower employee turnover rate for your business.
Support Employee Goal Planning
One thing about the Opensoft Performance Appraisal system is that it empowers employees to define their own goals (approved by their reporting manager of course). Employees will feel that they have a positive impact on their career and for the company.
Timely Notifications
The Opensoft Performance Appraisal system features automated reminders and notifications. These alerts are sent to both employees and managers in case of new feedback and comments received, updates on their goal progression and goal completion, etc. With timely notifications, your employees can monitor their progress, and make changes to their work to achieve performance goals.
Track Skill Sets
As employees attain new qualifications, they can upload their certifications through the performance appraisal system. Their skill sets can be profiled for career development within the company. All records are archived digital and can be easily retrieved by the relevant department heads.
Request for Demo
For a demonstration of OpensoftHR Performance Appraisal solution, please contact us.
Brochure
Download the OpensoftHR product brochure.