Do you prefer to chat instead of call? Can't get through to us right away over the phone during peak season? Are you clearing work after office hours and need help right away?
The OpensoftHR Customer Portal consists of a ton of information (both write ups and videos) that are exclusive for our customers. It is a library filled with FAQs, Insights and recommended sites that will help you with your various needs and requests. 
All the information is categorized into the following 6 sections. Click through the following 6 tabs to easily find the answer that you are looking for.
Getting Started

Employee

Administrator

Tips, Tricks & More

Resources

e-Learning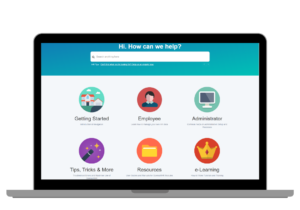 Here is a breakdown of what each section consists of:
1. Getting Started 
The 'Getting Started' section consists of Announcements and links to OpensoftHR's various help desks (Teamviewer, Telegram Chat Support, Teamviewer QuickSupport)
2. Employee
The 'Employee' section consists of everything related to your employee. Your employee can come here to reference how they can retrieve their payslip, how they can manage leaves, submit claims, clock in attendance, check their KPIs, give feedback on their appraisals and so on. This helps to take some load off the employer's shoulders as the employee can simply reference the OpensoftHR Customer Support Portal if they have any questions and not keep checking in with the employer when it comes to HR matters.
3. Administrator
The 'Administrator' section consists of a detailed guide of everything the person-in-charge needs to know to personalize the HR platform for their company. 
4. Tips, Tricks & More
The 'Tips, Tricks & More' section consists of errors that you may face and also other tips and tricks like clearing cache and cookies.
5. Resources 
The 'Resources' section consists of step-by-step guides for EVERYTHING you will come across on the OpensoftHR platform. Everything that was shared with you during the training session will also be shared here.
6. e-Learning
Prefer to watch videos instead? The e-learning section consists of videos that you can refer to for the issues that you may face. So far we have placed the most common issues faced in this section and will continue to update along the way. Let us know here if you would like to be notified whenever there is a new e-learning video.
—
Do you prefer to type your query in a 'Search' field instead of clicking through the tabs?
Simply search your question in the search field and the answers will automatically be displayed in a dropdown. Here's the steps to do the search:
Step 1: Type your question in the search field and a list of related FAQs and topics will appear in a drop down: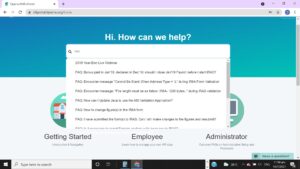 Tip: To get the best results, we suggest that you type only the keyword, eg 'Iras', 'Employee', 'Érror'.
Step 2: Select the relevant topic/question. Once you have selected the topic/question most related to the concern you have in mind, you will be led to a page that will provide a detailed step-by-step guide that you can easily reference and update the details at your end accordingly at your own pace: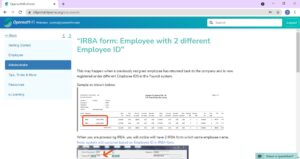 — 
Not able to find the answer that you are looking for?
Feel free to reach out to us anytime via the 'Have a question' chatbot at the bottom right corner. Our dedicated chat support personnel will reply to you in the chat asap during working hours.
Learn how to use Opensoft payroll software, e-leave, e-claims, time attendance and other HRMS products. Get your free access to customer service portal today!