OpensoftHR Integrated Payroll
Fuss-free and accurate. Compliant with statutory requirements. Easy to set up and submit IRAS. Always up to date with CPF regulations.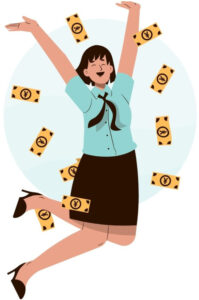 Benefits of using OpensoftHR Payroll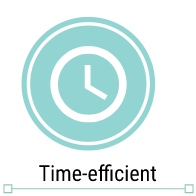 Say goodbye to time-wasting Data Entry while ensuring your payroll is done accurately. Our Quick Data Entry Mode is very useful for pay day processing.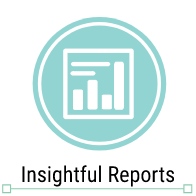 Ease of generating Management Reports such as 'Overtime Expense Report' or 'Monthly Expense Report'.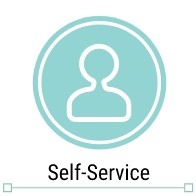 Empower employees to be responsible for their own HR records. Our Self-Service is simple enough for anyone to use!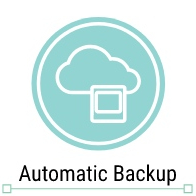 The system will backup data automatically and all backups can be kept for an unlimited period of time as required.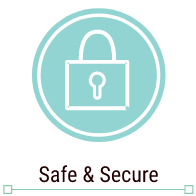 All data stored in Opensoft Payroll is encrypted. Specific rights on visibility can be granted to relevant staff.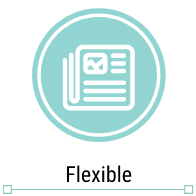 Users can customise any formulae to suit your organization e.g. you can configure different paydays for different employees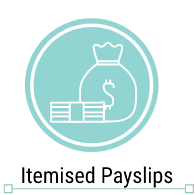 Compliant with Ministry of Manpower's policy for all Singapore companies.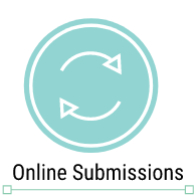 Bank GIRO, CPF-Line and IRAS-Line submission can be done easily with just a few clicks on your mouse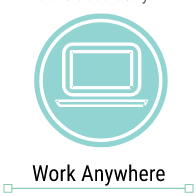 Process your Payroll anywhere, anytime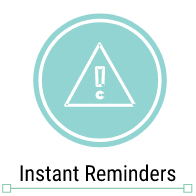 Be alerted on Expiry of Employee Work passes, Passports.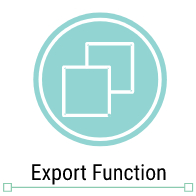 Need to send Payroll Data to Finance? No problem as you can easily export to Excel.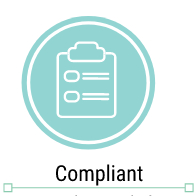 Compliant with the statutory requirements and is approved by CPF board.
Save even more time with OpensoftHR's automated reports
With just a click, you can easily generate the following automated reports (that you would otherwise spend hours or days working on):
Summary reports of Monthly Payroll
Summary of Year-to-date Payroll
Overtime Expense Report
Levy Expense Summary
Organization Salary Overview
Employee's Bio-Data
Employee's Payroll History
Staff Appraisal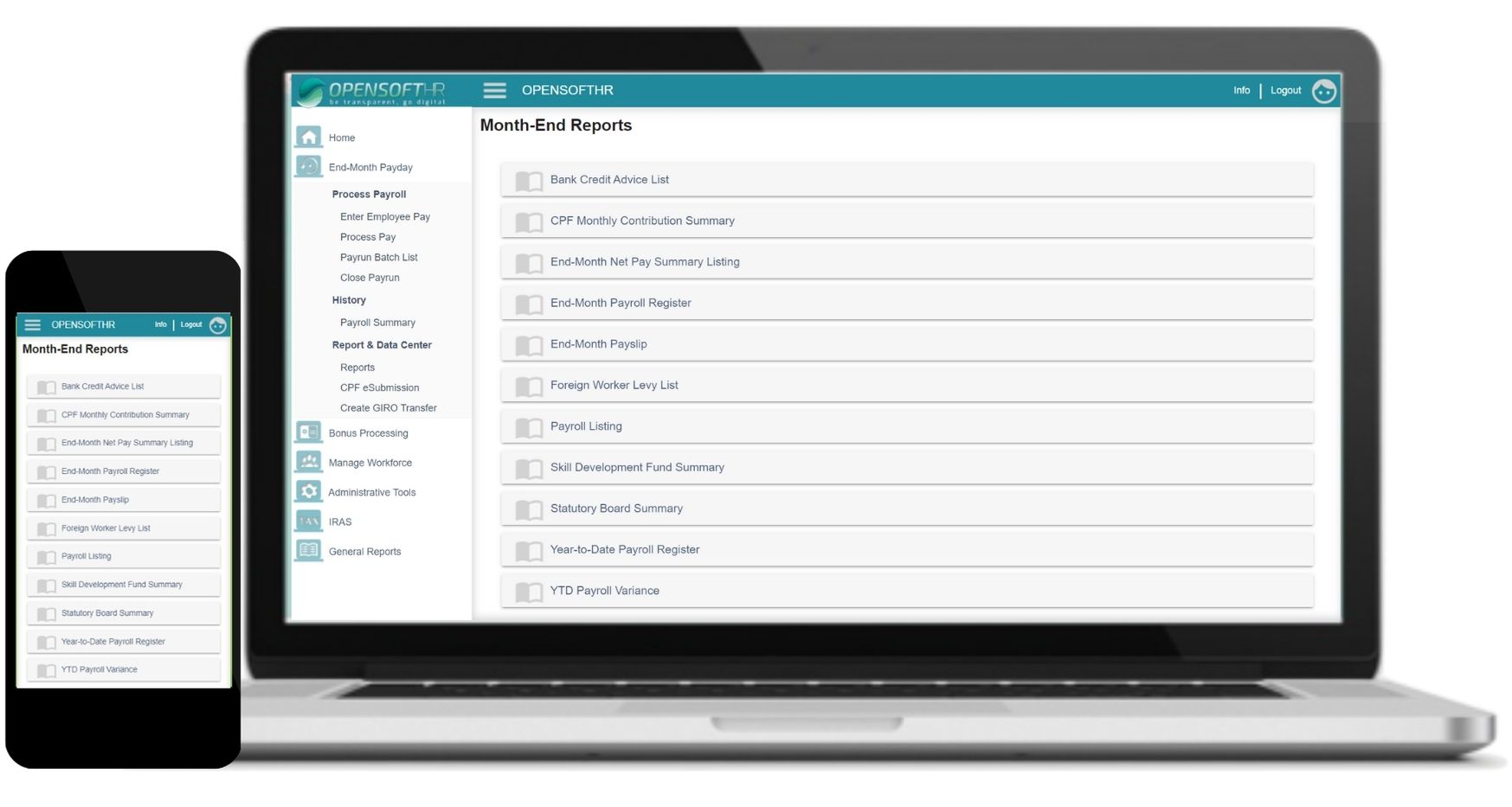 Singapore Payroll Compliance
Payroll compliance can be a daunting responsibility. Instead of spending unproductive hours on manual processing, you can let Opensoft Payroll software automate every aspect of it. Opensoft has incorporated the computations for virtually all types of contributions, most common of which are CPF, CDAC, MBMF, SINDA, ECF, SHARE, FWL, SDL, National Service Pay, Monthly Variable Component (MVC), NWC. Updates will be available to keep the payroll software in full compliance with new / changes in regulations.
Multi-User Collaboration
OpensoftHR Payroll dramatically improves the payroll processing capacity of your organization. First and foremost, the payroll software is good for single-user as well as multiple concurrent users without restriction in terms of the number of users possible.
Hence, for large enterprises with big payroll teams where staff is tasked with different payroll functionalities, Opensoft provides the perfect payroll solution that caters to collaboration.
Different companies can also be created, each with its own payroll runs.
Auto Online Submissions
To ensure the timely submissions of contributions to statutory boards, simply make use of the auto submission built in the OpensoftHR Payroll software. With support for direct deposit via bank GIRO, CPF contribution via CPF PAL-Internet or CPFLine, IRASLine, IR8A, IR8S and IR21, your business would no longer be penalised for late submissions.
Itemised Payslips
In compliance with Singapore's HR regulations, companies are required to issue itemised payslips to every employee. While small businesses can get by manually issuing payslips generated by spreadsheets, such methods are time consuming and prone to errors. Using our payroll software, itemised payslips will be automatically generated for each employee. Our payroll software can support both hardcopy and electronic payslips.
Flexibility in Payroll Processing
Some examples of what OpensoftHR Payroll can cater to include:
Different Pay Frequencies: Can configure different pay days for different employees.
Personalised Payroll Processing: Up to 20 additional fields available per employee for tracking individual allowances and/or deductions over the default Overpay, No-Pay-Leave, Commission, Bonus fields
Tracks Recurring Payment: Allowances and deductions disbursed to each employee will be tracked and accumulated for management reporting
Staff Loan: For staff who takes loan from the company, their instalment payments can be auto-deducted from their monthly salary and reflected in itemised payslips
At OpensoftHR, we are advocates of using your time wisely and prioritizing what truly matters. We aim help you increase productivity and also ease your stress by taking care of all of your HR needs.
OpensoftHR is always compliant with government regulations and can generate every HR Report (IRAS, Payroll, Leave etc) there is that is required by the government.
As a Small Business, you may only require the basics. Please fill up this 'Get a quote' form so we can better understand your company type and propose a quotation for you.
You will receive your quote and a customized deck that shares the proposed tools within 1-2 working days.
Brochure
Download the OpensoftHR product brochure for an overview of all of OpensoftHR's Payroll and HRMS Solutions.
See a Demo
For a demonstration of Opensoft Payroll software, please contact us.
Get a Quote
As a Small Business, you may only require the basics. Want us to propose which package is best for you?
Productivity Solutions Grant
Are you a local SME? You may be eligible for purchasing OpensoftHR at up to 80% off.
Up to 80% Grant
Opensoft Payroll software is included in the HRMS Package which qualifies for a total of 80% funding under Productivity Solutions Grant (PSG). Eligible employers for SkillsFuture Enterprise Credit (SFEC) will receive a one-off $10,000 credit to cover up to 90% of the out of pocket expenses on qualifying costs.
For more information, please contact us or refer to the HRMS package.