The interiors of an office space is more often than not, overlooked by managers and HR when devising strategies for improvements in employee engagement and productivity.
Perhaps it has now come to your realization that you and most of your colleagues spend most of your time,and life, in the office. Imagine having to come to work where the environment itself makes you feels utterly dreary and uninspired. You would not be able to perform 100% or have the motivation to go beyond your capabilities and this in turn will be devastatingly detrimental to the organisation at large.
Understandably, most small businesses will not be able to put aside vast sums of money to perform an 'extreme makeover' to their office space. Here are some tips that don't require very much at all to create a conducive work environment for employees:
Tip 1: Invite nature
The easiest and most cost efficient way to revitalize your office space is to introduce elements of nature in the form of plants and natural light. Not only do plants bring about visual appeal through color, but it has been scientifically tested and proven over the years to reduce stress and increase happiness as well as productivity. Furthermore, plants do not require great monetary investment at all and instantly provides improved air quality for you and your employees to breathe.
Tip 2: Build your pantry
Most of us love to nibble away whilst at work and what better way to reduce stress of your employees than to build a pantry space. That is, if you don't already have one. Having a well-stocked pantry instantly lifts the mood and makes everyone happier knowing their welfare is taken care of. A simple coffee and tea selection corner and a variety of snacks is sufficient, but going the extra mile by creating an allocated pantry space for employees to take a break and have casual conversations with each other will definitely serve to enhance employee engagement as well.
Tip 3: Color up!
The color of your office' physical environment , be it the walls or even the furniture and desk stationery, matters a lot as it has a strong effect on the productivity of people. Nonetheless, different colors have vastly different outcomes on the mind and body. So which color? It really depends on your circumstances and what outcome you wish to achieve. Considering primary colors such as blue,red,green and yellow is great start before playing around with varying mixes of color.
Blue: Stimulates the mind and enables critical thinking
Red: Enhance strength and willpower
Green: Invites a sense of calm and balance
Yellow: Stimulates creativity and generates optimism
We at Opensoft have clearly taken the liberty of including all colors from the spectrum, with this being the first thing we see when we walk into our office.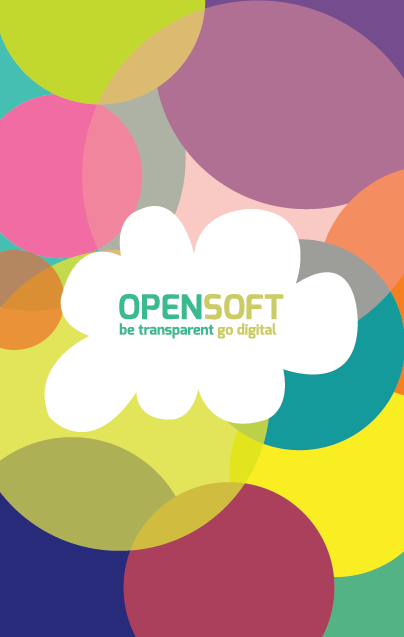 Whilst low monetary investment is required, you may find that taking on these simple additions will benefit your organization and its people greatly for the long haul.