The current outbreak of the novel coronavirus (2019-nCoV) that was first reported from Wuhan, China, on 31 December 2019, has caused much worry and panic amongst people all around the world. Evidently, shelves have been cleared of hand sanitisers and disposable surgical/non-surgical masks, where opportunists have begun to mark up the prices of these sacred objects of protection.
Largely exacerbated by the spread of fear-mongering due to the ease of sharing unverified information via social media or group messaging platforms, it can be difficult for one to feel safe in a seemingly 'disease-ridden' environment – much less an enclosed one like the office.
Despite all the chaos, we list down six long-term practical measures that Human Resources (HR) or Management can implement to minimise the potential risks of spreading illnesses amongst employees:
Enforce Good Hygiene Habits amongst Employees
Good personal hygiene habits may seem like a no-brainer to you, so it might come as a surprise that not everyone is aware of some of the hygiene rules they ought to practice everyday. Creating a bulletin to be pinned on the Office Noticeboard/Digital Dashboard, detailing some Good personal hygiene habits Employees should take, can help to serve as a daily reminder to Employees as they step into work. We list down a few recommendations below:
Cover your mouth and nose with a tissue (or at least your hands!) every time you cough or sneeze. Throw away used tissues in a lined dustbin and wash your hands with soap and water or clean your hands with an alcohol-based hand sanitiser immediately after.
Wash your hands often with soap and water or at the very least, clean your hands with an alcohol-based hand sanitiser (containing at least 60% alcohol for effectiveness) and rub them together until they feel dry. As much as possible, avoid touching your face (eyes, nose, and mouth) with unwashed hands.It is worth highlighting that the use of hand sanitisers alone is not sufficient in killing of the bacteria left on your hands. Washing your hands with soap and water is your best bet against the fight against unwanted germs!
If feeling mildly unwell, always Wear a face mask properly when you are around other people. Should you be unable to wear a face mask (for possible reasons such as difficulty breathing or unavailability), then try to avoid contact with people as much as possible.
Distribute Responsibility of Keeping the Office Clean
Unless your workplace can afford to engage external cleaning services, it is the responsibility of all employees to keep the office clean at all times. Aside from keeping away desk clutter and maintaining personal desk hygiene and cleaniness, it is worthwhile to consider implementing a cleaning schedule that involves all employees – where employees are assigned cleaning tasks on certain days of the week or month on a rotational basis. These tasks may include taking out the general trash, wiping up the pantry area etc.
Review your Sick Leave Policy
Employees often avoid taking Sick Leave when they experience mild symptoms, or sometimes even when they are simply too lazy and unwilling to see a doctor and get a Medical Certificate (MC).
Regardless of the severity of illness, it is good practice for unwell individuals to restrict activities outside their home, except for getting medical attention where needed. What businesses can do to encourage this behaviour, is to enable Employees the freedom to take Medical Leave without need for a MC as proof for a certain percentage of their total annual Medical Leave entitlement.
So for example if an Employee is typically entitled to 14 days of annual Medical Leave, and if their workplace offers 50% of Medical Leave be taken without proof of MC, then he/she can take 7 days Medical Leave to recuperate at home.
(Psssst for all you know, this could very well reduce the MC claim costs for your business too.)
Implement Flexible Work Arrangements
Flexible Work Arrangements such as working from home, or having flexible work schedules, can play a big role in minimising the possibility of transmitting unwanted bacteria at the office but also during commute. You may refer to this guide published by the Ministry of Manpower (MOM) on how you can start your journey towards incorporating this in your company.
Facilitate Employee Complaints/Feedback
Everyone at the workplace has a role to play in ensuring a safe and clean environment for their colleagues. As a small HR or Management team, it is impossible to police every single action of bad hygiene by each and every employee in the office.
Start off by inviting your employees to raise their concerns over their colleagues' undesirable workplace hygiene via the creation of a contact point such as an online-based form that can be placed in a shared company dashboard like this one: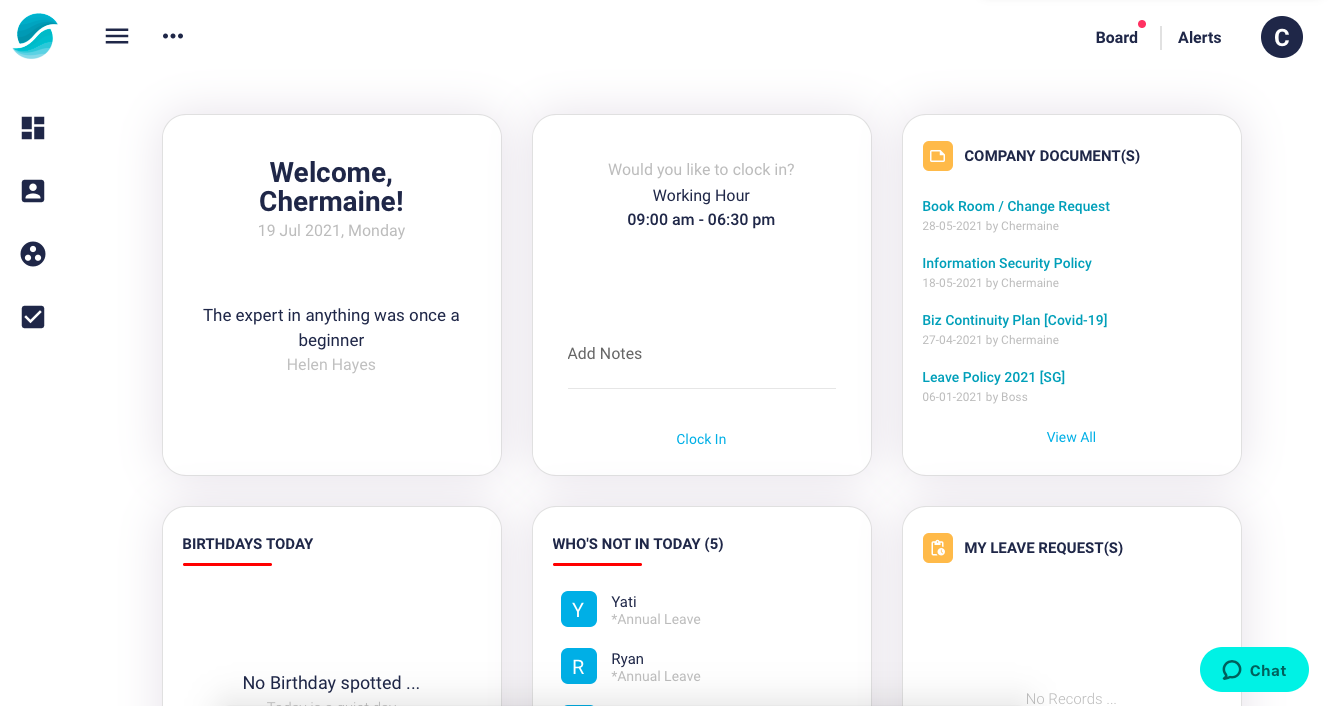 From there on, it is the responsibility of HR to educate Employees on the importance and 'how-to's of accepting the need to change and/or improve on their habits to create a more liveable work space for themselves and their peers.
Integrate Online-based Platforms
With several communication platforms that allow teams to collaborate effectively readily available online via subscription, it is a great option for businesses to consider when implementing Flexible Work Arrangements. Trainings, Webinars and Meetings can be conducted over Skype, Google Hangouts, or Zoom.
Aside from that, businesses should look into moving their operations to the cloud, where employees have the ability to work anywhere and anytime. For example in the case of HR operations, utilising a Human Resource Management System (HRMS) can be beneficial to your company by centralising all HR main functions in one place that is to be accessed by all employees wherever they are. Say goodbye to the days of having to physically submit hard-copy paper forms for leave and claim applications!