Opensoft Employee Self-Service (ESS) HR Portal Software

Enhances the efficiency of HR management

Is your HR department overwhelmed with HR related matters? If so, the Opensoft Self-Service portal software module is the ideal solution for your company.
With our Self-Service portal solution, all employees can, in fact, self-service for all their personal HR related matters, such as checking and submitting leave applications, stay informed of updates to their work schedules, and print out their own payslips & IR8A forms at their own convenience.
No longer will the HR department be constantly bugged by employees for information and tasks that they can now retrieve and perform on their own. Therefore, Opensoft eSelf-Service module enhances the efficiency of your HR department while empowering employees quicker access to information that pertains to their personal needs. At the same time, eSelf-Service ensures better privacy in terms of how personal informaiton is being handled in your organisation.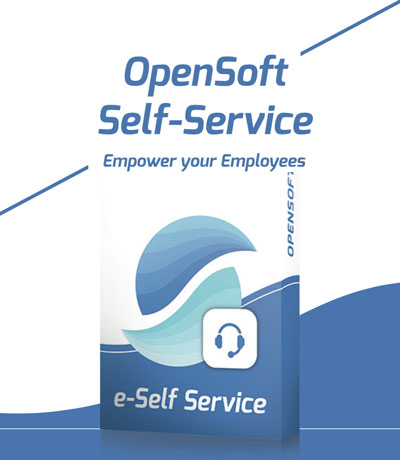 Government Grants
Opensoft Employee Self-Service ESS is one of the software under the OpensoftHR Solution Package which has been Pre-Approved for up to 70% PSG grant (Productivity Solutions Grant). For more information, please contact us or refer to:
REQUEST FOR DEMO
To experience the Opensoft Employee Self Service ESS, please contact us.
Self-help
Each employee can access the eSelf Service to maintain one's own records, update personal particulars, apply leave, submit on-line claim reimbursements and get notification of changes to work shifts etc.
24/7 access
Through Opensoft Self Service, employees can view their own leave balances, print out personal leave and attendance reports for personal reference.
Track progress of applications
Upon performing leave or claim applications, employees can easily track the status of their applications and send out email reminders at the click of a button. Employees will also be notified via email or their mobile smartphones upon each level of approval.
Payroll access (optional)
With eSelf Service integrated with the optional back-end payroll module, employees can view their own payslips and IR8A forms generated and stored in Opensoft HRMS.
Enhance HR productivity
Your HR department does spend a significant amount of time checking and querying employees' information. This is part of their HR support role. However, such tasks can be eliminated with the eSelf Service solution since employee will all be self-servicing on much of their personal data. Your HR department can focus on higher-value work, such as implementing policies to strengthen your talent pool.
Management reporting
All information collected by the eSelf Service portal is stored in a backend database, and company management can easily retrieve reports pertaining to the status of their human resources. Such reports provide insights for management to effectively carry out re-organisation.
Responsive HR
The Self-Service module makes it easy for HR personnel to query and retrieve information of all employees. It enables the HR department to respond quicker to employees' requests, thus resulting in a smooth process of engaging with the employees.
Security & audit

The eSelf Service is a secure solution based upon industry-standard SSL web technologies – the same technology that bank use for online banking. Information captured by the eSelf Service portal are backed up securely, and fulfills the industry's standards for audit trail requirements.
Brochure
Opensoft eSelf-Service – The indispensable portal solution for human resource management today!