Opensoft Rostering Software
The Smart Way to Plan, Edit, Publish and Distribute Rosters
Roster management is an extremely challenging task. Most supervisors who manage shift workers will understand the headache of scheduling their staff for duties, and this is especially time consuming if rosters are done manually on paper or spreadsheets. Manual rostering can also be prone to mistakes which could disrupt business operations.
Employee Scheduling Made Easy
The Opensoft Rostering Software is designed to make employee scheduling simple and easy, to reduce paperwork, and improve rostering efficiency for smooth business operations. Any necessary or urgent changes to the rosters can also be implemented easily without affecting operations downstream, as the software has an intelligent algorithm to avoid conflicts in schedules.
With the Opensoft Roster Scheduling software, you get a complete and easy-to-use software solution that solves your organisation's employee scheduling challenges and helps your business to manage labour costs more effectively.
With a click of the mouse, you can generate rosters, schedule around employee availability within maximum hours limit, and much more. Your users will appreciate the innovative multi-view schedule planner built into the Opensoft Rostering Software, as it allows your users to see the availability of each employee at a glance, know who is available for additional shift and so on. The Opensoft Rostering Software is one of the most innovative employee scheduling tools available for companies today.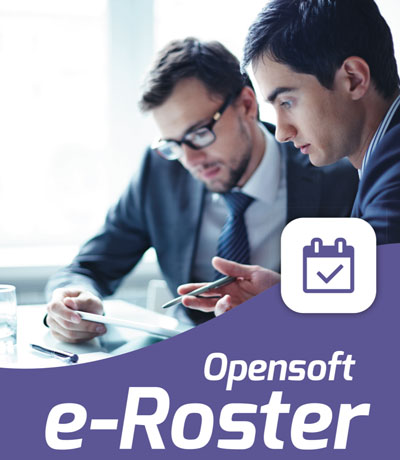 Government Grants
Opensoft eRoster is one of the software under the OpensoftHR Solution Package which has been Pre-Approved for up to 70% PSG grant (Productivity Solutions Grant). For more information, please contact us or refer to:
Ease of Use
The task of scheduling staff can be done in just a few minutes, thanks to customisable shift colours that makes tracking of available employees easy. The Opensoft roster scheduling software delivers a graphical user interface and powerful software tools for creating and editing schedules and data analysis. Finally, published rosters are automatically distributed to employees by the system.
Automatic Scheduling
With the rostering software, new rosters are created once and the software takes over, automatically generating rosters based on employees in your team. Simply set the rules and let the software do the rest. Similar rosters can also be duplicated at a click, edit and publish.
Smart Notifications
Opensoft Roster Software improves communication for all staff on rosters. When there are changes in schedules, shift managers and affected employees will receive notification on their smartphones and email.
Stops Roster Conflicts
The rostering software would not allow shift conflicts to happen, and this alone is a good reason to use the Opensoft Rostering Software. When a roster is adjusted, all affected employees will be notified. Therefore, supervisors do not have to waste time resolving shift conflicts.
Employee Access
All the roster information is readily available and can be accessed by all employees via the Self Service Module. Through this module, employees will be able to view details of their own work schedule as well as fellow employees in the same shifts as well, thereby reducing the need to manually disseminate information to them whenever changes to schedules are made.
Admin Access
The Opensoft Roster Management solution offers administrators various options to view rosters – by employees, according to the department, by work location or by specific jobs.
Perfect Roster Planner
The Opensoft roster software is a much more efficient tool as compared to traditional spreadsheets when it comes to planning rosters. Supervisors can draft out their roster ahead of time, save as draft, refine it, and publish once ready.
Monitor Staff Coverage
With better oversight on the availability of employees for specific work shifts, you can better monitor the allocation of employees to work shifts and ultimately improve overall roster management. The Opensoft rostering software makes it easier to check how many employees you have already allocated to a shift, and ensure no employee is left out of rosters at any time without your knowledge.
Brochure
Opensoft Roster Software – An indispensable tool for effective human resource management!